Malware vs. Advanced Malware
Malware (short for malicious software) refers to any type of software designed to cause harm to a device. There are many different types of malware, the most common being: viruses, rootkits, spyware, worms and trojan horses. Malware causes slow browser speeds, can change or delete data, access confidential data, disable systems and networks, cause a hard drive crash and much more.
Advanced malware is malware that has a specific target and mission and is most likely carried out against an organization or enterprise. It can even target certain people at an organization like systems administrators. Advanced malware uses specially modified malware that uses several different ways and techniques to penetrate a system. These attacks avoid detection by traditional security controls and even some sandboxing technologies built to dynamically analyze malware. Combatting these advanced malware attacks consumes significant amounts of remediation time and security budgets.
Threat actors are using increasingly advanced malware designed to evade traditional signature-based protections, network security monitoring tools and even some sandbox technology. In addition, lack of experienced resources and overreliance on technology exposes weaknesses in network security, resulting in failure to detect and/or respond to a major information security breach.
What Is a Zero-Day Threat?
A zero-day threat or attack is an advanced malware that exploits previously unknown networks vulnerability within an organization's operating system. This malware, called a "zero-day" refers to the time of the attack because it occurs before the vulnerability has been discovered by a developer or on the same day.
How Can Organizations Combat Advanced Malware Threats?
Advanced malware detection solutions produce so much detail about the suspicious activity that most organizations do not have the resources to thoroughly investigate and analyze it. The best technology means nothing if you don't have the right expertise to react to the alert, quickly decipher complex reports, investigate the threat, and determine the right response. And meanwhile, the threat actors aren't standing still – they're developing measures to circumvent controls in some traditional sandbox environments.
Organizations need an advanced malware protection solution that ensures the right technology, intelligence and security expertise are in place. The network intrusion detection solution must be able to identify and respond to advanced and evasive cyber threats in order to ensure the organization isn't the next big news story.
Your organization has to minimize the threat actor's window of opportunity before extensive damage can be done. It's critical that you have access to a robust intelligence framework; one that tracks the countless movements of the elusive threat groups that are out there, especially if you're going to rapidly detect and respond.
Your first priority should be finding a specialized advanced analyst team who can identify and diagnose these evasive threats -- not just accurately, but also timely -- based upon these new complex alerts.
Choosing an Advanced Malware Protection and Detection Provider
Protect against evasive malware and advanced threats by finding an advanced malware protection and detection (AMPD) provider that offers an elite layer of defense against emerging threats. The right team will combine vast intelligence capabilities with advanced technology to help you see, rapidly analyze and accurately diagnose security threats, and get focused guidance that speeds your malware incident response and its removal.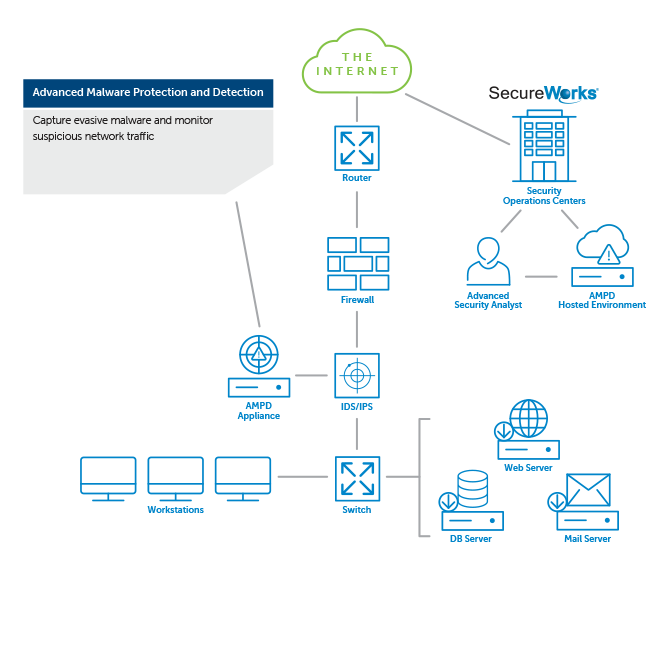 Advanced Malware Protection and Detection Benefits
Full system emulation to catch the most evasive malware
AMPD's full system emulation goes beyond traditional sandbox technology to detect the new class of malware designed to evade sandbox environments.
Intelligence as a service
Choose an AMPD provider that can deliver customized and focused threat research and actionable information to address issues.
Accurate diagnosis
Your AMPD's analysts often have pre-knowledge of malware others may consider to be zero-day or misdiagnose as something else. This saves valuable time in the event of a breach.
Accelerates incident response and reduces cost
Advanced Malware Protection and Detection reduces cost by helping customers quickly and accurately diagnose the threat, and provides actionable next steps that accelerates incident response and reduces the exposure to the malware threat.
Back to all Blogs