To learn more about the transformative benefits of Taegis XDR,
view our on-demand webinar, Meet Taegis™ XDR: The Engine Behind Extended Detection and Response

Summary:
Your role as a cybersecurity professional can put you into positions of friction with the rest of your organization
SecOps community collaboration is key to success
Secureworks® Taegis™ XDR's "Ask an Expert" feature provides this community support
We all know there aren't enough cybersecurity professionals to defend against an increasingly sophisticated adversary. And all organizations are being asked to do more with less. You might be part of a small InfoSec team, maybe you wear multiple hats, or perhaps you're the only person in your organization tasked with cybersecurity. No matter what team you have, we both know it isn't enough, and this can be intimidating. You need all the help you can get. But who can you collaborate with? Where can you vent your frustrations? Who can provide feedback and guidance?
A career in cybersecurity can be alienating. It can put you into positions of friction with the rest of your organization. You understand and appreciate the risks of engaging in a digitally connected world. You know that it is not a matter of "if" but "when;" you "assume breach" and hunt for signals of intrusion. But not everyone in your organization understands this, and it can be exhausting trying to help them understand. You might feel like a stranger in your own organization.
I feel this sentiment when I have conversations with customers, and I see it the in various InfoSec communities on Twitter, Reddit, and other digital spaces. We reach out beyond our organizational boundaries to other security professionals because we all need someone in our corner. Someone who understands us and can back us up, give a second opinion, and share their experience and expertise. These communities are essential to our collective defense against the adversary and to our collective well-being.
We had this sense of community top of mind when we built Secureworks® Taegis™ XDR. Taegis XDR includes "Ask an Expert," a real-time collaboration feature to reach a SecOps professional who is in your corner. Our SecOps team has more experience with intrusion analysis than I could ever hope to know. They have seen it all before and have hundreds of at-bats combatting the threat to prove it. They can spot a false-positive through the benefit of helping defend dozens of customer environments, and they have the intuition to detect a threat in a sea of noise, leveraging the power of XDR's advanced analytics and Counter Threat Unit™ threat intelligence.
Ask an Expert support is requested via the Taegis XDR chat feature, available 24x7x365.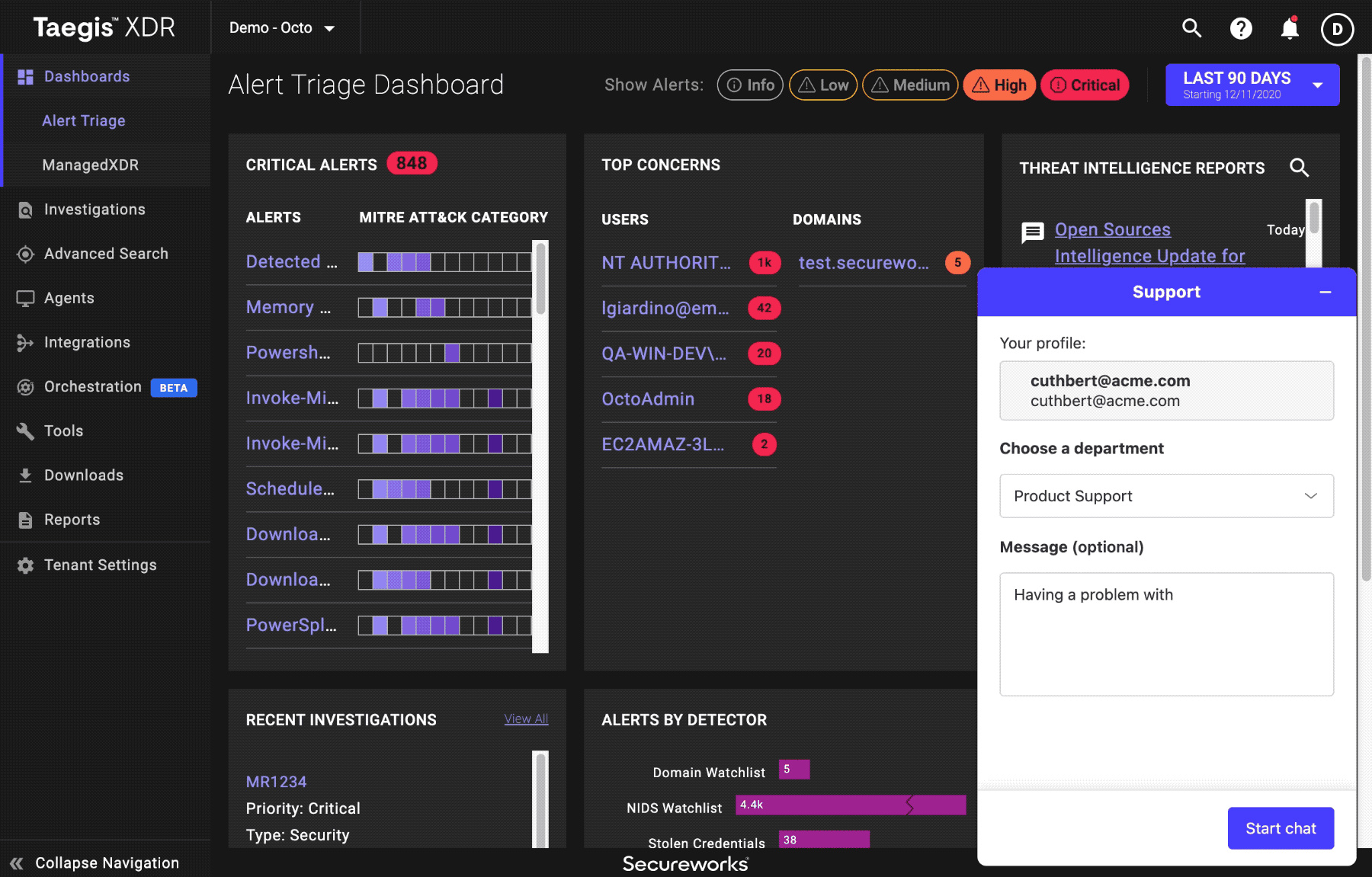 Support includes:
Basic security alert questions
Best practice workflow questions
Investigation support:

Identify related events and related alerts
Additional Context
Impact of the alert(s) on the affected asset(s)
Determine scope of the investigation
Recommended next steps
Having real-time access to this SecOps community and the opportunity to engage with cybersecurity pros is invaluable. I invite you to include Secureworks experts on your security team… After all, it's an unfair fight, but even we cybersecurity professionals need someone in our corner.
Back to all Blogs