Every business has unique operational requirements, and that's certainly true when it comes to budgets. With many IT budgets increasing to handle a variety of factors, such as digital transformation and a shifting economy, more businesses are reevaluating their cybersecurity budgets. As part of this reevaluation, leaders are trying to identify the right spending level based on the level of risk they are willing to accept.
Consider the following data from various sources that suggests cyber spending is necessary but will also need a lot of "selling" to show value: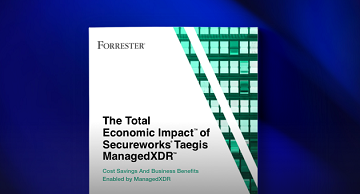 Read The Total Economic Impact™ of Secureworks Taegis™ ManagedXDR
These data points indicate that cybersecurity is recognized as a business imperative across industries, which is encouraging as businesses grapple with an increase in cybersecurity threats. This is in in part due to a growing remote workforce.
But a bigger budget doesn't mean an infinite budget, and it's critical that business and security leaders spend their cybersecurity dollars as efficiently as possible. This blog will provide a framework for allocating cybersecurity budget efficiently to make the greatest impact across your business environment.
Although every organization is unique, these six tips for efficient budget allocation can help leadership form the framework for building a budget and communicate the changing needs of the organization:
Understand the Threat Landscape
While this will be unique to the industry and organization, it's critical to understand events, incidents, and potential breaches, not to mention the speed at which they occur. Ransomware attacks occur every 11 seconds, so your business needs a keen understanding of the latest threats.
Understand the Business Landscape
Just as security leaders must understand the threat landscape, it's equally important to understand the business landscape of your organization and design a cybersecurity budget around that.
Monitor and Measure
Creating a program with strong measurement and KPIs will help leadership determine if the budget is being spent effectively based on results.
Determine if the Program is Risk-Based or Tactical
Although every organization must determine what "smart spending" looks like to fit its own unique culture and values, a key guideline is to spend the cybersecurity budget like it's your own money.
Decide Whether the Program Should Be In-House or Managed Externally
People costs, like compensation packages and training, make up a significant portion of the cybersecurity budget, but a managed security partner can help streamline spending through efficient knowledge-sharing, training, and reporting.
Determine the "Big Ticket" items
Security must play a major role in digital transformation projects, such as moving workloads to the cloud, supporting remote work, and BYOD. Plans must be reflected in the security budget for securing changes in IT infrastructure projects.
Building an efficient cybersecurity budget can be a complex process with multiple factors and outside influences to consider.
You need to be sure your intended level of spending aligns with your chosen level of risk and desired level of protection. However, with this framework as a starting point, cybersecurity leaders can spend with confidence, knowing the most important needs of the business are being met.
You may also be interested in
Back to all Blogs