Webinar
MDR Done Right: 5 Things to Know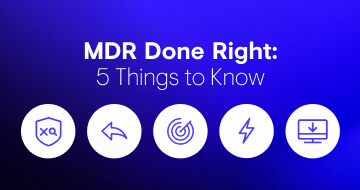 Access On-demand Webinar
All fields are required.
How to Execute a Winning MDR Security Strategy
Speakers
Matthew Mills, Security Operations Lead
Chad Roesle, Director of Product Management
Recorded: November 3, 2021
Duration:44 mins
Earn 1 CPE Credit
What you'll learn:
Top challenges that Managed Detection & Response – MDR security services solves
5 crucial criteria for evaluating MDR solution vendors
Practical advice on how to maximize the value of MDR
Answers to questions that our speakers received during the live webinar
Managed Detection & Response (MDR) is an attractive time- and cost-saving solution that allows you to remediate advanced threats in your environment while unburdening your staff. But what does effective MDR really mean—and what does it take to deliver it well?
To find out, save your spot in our upcoming webinar. We'll look at trigger points for investing in MDR and the best criteria for selecting an MDR vendor. We'll also highlight a day in the life of a SecOps analyst and share practical advice on maximizing your MDR investment.
Our experts will share insights on how MDR can make an impact on your organization in helping you beat the threats. Register now and earn 1 CPE credit for attending.
This webinar is approved and endorsed by (ISC)2 and CPE credits. To submit for credits and for additional CPE opportunities, please visit www.isc2.org.